Advantage Tech Inc.

HR Services, Career Transition, and Executive Coaching since 1980
Financial Planning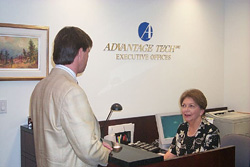 Most of our involvement in financial planning is at the time of
career transition
, during which time we provide advice to our individual clients about how to marshall their financial resources to ensure adquate cashflow during the period of transition, and also to assess the financial goals they need to set for themselves in the comming years in the workplace. To enhance the value we bring to clients, we also understand that coordinating
professional advice
is critical. Should our clients require such specialized services as advanced tax or legal advice, we will ensure that these professionals are integrated into the overall process. In this capacity, each client receives a written document that provides in-depth analysis and recommendations in the following areas:
Net Worth Analysis
diversification of family assets

tax efficient debt structure

benchmarking for accumulation

Severence Package Strategies
Tax minimization of payout

Analysis and recommendation of package options

Tax Planning
maximization of deductions and deferrals

income splitting structures

trusts

tax effective portfolio management

Risk Management
analysis for life and disability insurance coverage

analysis of group benefits

Estate Planning
tax efficient transfer of wealth

effective Power of Attorney and Will

family trusts

Retirement Planning
pension plan analysis

specific retirement projections

tax effective withdrawal of assets

Education Analysis
accumulation strategies

tax efficient funding options

Portfolio Management
individualized asset allocation strategies

construction and ongoing monitoring of portfolios

discretionary money management

Next Page...
| | | | |
| --- | --- | --- | --- |
| Visit/Share/Like/Follow our Social Media | | | |