Advantage Tech Inc.

HR Services, Career Transition, and Executive Coaching since 1980
Qualities of our Career Transition Services:
(Calgary Headhunters)

Effective
"The staff of Advantage Tech helped me chart my future direction in a positive, thoughtful and constructive manner."

Walk into our offices. Right away, you´ll experience our unique environment. Professional yet comfortable. Supportive and inspiring.

People involved in career transition are at critical turning points in their lives. At Advantage Tech, our purpose is to make the experience a positive, beneficial one. Since 1980, we have taken pride in helping our clients turn a new, successful page in their career histories.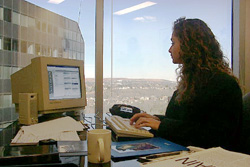 First and foremost, we are facilitators. Our mission is to assist individuals in evaluating their career options, and as a result, make an effective transition to their next opportunity. To this objective we add value, flexibility and service excellence. It is the combination of these attributes that allows us to provide constructive assistance as well as promote positive feedback to remaining employees.

We are fully qualified to achieve these goals. The strength of our consulting team is unparalleled - each of us combines strong human resources backgrounds with senior level experience as specialists in other fields. These qualities are supported by extensive business alliances locally, nationally and internationally.

All of these attributes make Advantage Tech distinct. Whether your employees need to access job sites on the internet, develop communication skills, or search for a new career overseas, we have the skills and the resources to take an active, participative role in each career challenge.


Service
"You inspired new thought processes, you countered self-defeating ideas with insightful and intelligent input, and you ensured that your services were flexible and adaptable to serve my individual needs."

Listen, understand, advise. While these skills are often overlooked, we have built our reputation on them at Advantage Tech. Our experience shows that the most effective programs for career transition are not created in isolation. By listening to people, we are able to understand their individual situations; to see the world through their eyes.Subject to our professional judgement, we support creative input into the design of our programs. This approach helps us fulfill a two-fold purpose– to develop programs that fit your company´s requirements as well as an individual´s needs. Our purpose is to help people help themselves. That´s what makes our programs unique.


Excellence
"I am very grateful for the extra time you afforded me which went well beyond my contract"

We go the extra mile. That´s because career transition programs, alone are not enough. It´s the added benefits and support that make the experience exceptional.

Next Page...


| | | | |
| --- | --- | --- | --- |
| Visit/Share/Like/Follow our Social Media | | | |